Many people assume that flat roofing is an unreliable choice, but flat roofs are actually a great option for garages, home extensions, and even commercial buildings. If you live in the West Hartford area and are considering flat roofing installation, you need help from the pros at J. Corrigan, LLC. Our team of flat roof installation experts has over 20 years of experience in the industry, which means that we've seen a lot over the years, and we have the knowledge, tools, and professional expertise to install a variety of different options for flat roofs. No matter whether you need a flat roof for new construction or you want to replace or repair a flat roof on your existing structure, we're the pros that you can trust to do a superior job. For affordable pricing and high-quality craftsmanship, call the roof installation pros at J. Corrigan, LLC today!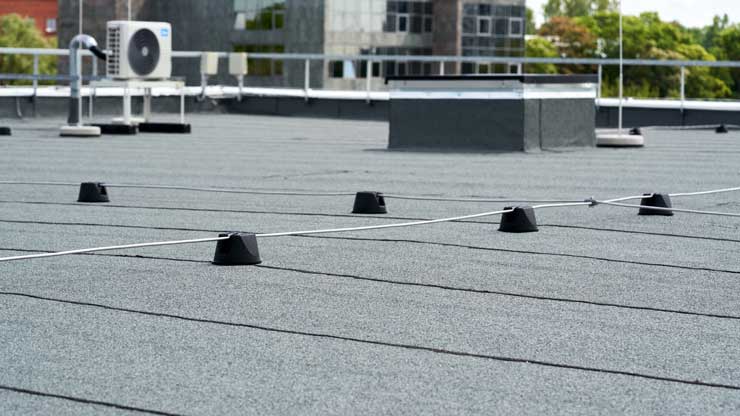 Expert Flat Roofing Installation in West Hartford, CT
Many property owners consider do-it-yourself flat roof install or flat roof replacement in an effort to save money. While it's true that doing the labor is less expensive on the front end, you won't be able to save much money in the long run unless you get your roof installed or repaired by roofing installation experts. If you hire flat roof installation contractors who won't take the time to ensure that the new roof is watertight and that everything is in order, or you try the job yourself, then you run the risk of your roof springing a leak in the near future. Protect your building and your assets by hiring the roofers at J. Corrigan, LLC to install your flat roof. Call us today to take advantage of our superior customer service and commitment to precise craftsmanship!
A flat roof generally requires special consideration, as water has a tendency to drain slower from these types of roofs and can pool, posing risks for leaks. That's why you need experienced roof installation professionals to help you ensure the job is done right. When you choose J. Corrigan, LLC to help you with flat roof repair or installation, you can be assured that you'll get high-quality results. We'll help you select the ideal material for your property, based on budget and structural considerations, and then provide you with precision installation workmanship. We're here to make sure that your flat roofing is not prone to leaks and will adequately protect your home or commercial space for years to come. We offer everything from torch-down roofing to 3-ply BUR roofing, so our technicians will help you make the best choices to ensure that your roof is watertight. Call or e-mail us today to schedule your flat roof replacement or repair!