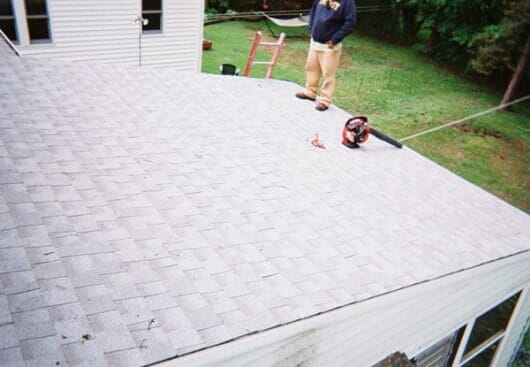 Your roof is your building's most important defense against the elements, and it needs to be in tip-top condition at all times. Unfortunately, given the constant exposure to wind, rain, and damaging sunlight, even the sturdiest of roofs will eventually start to deteriorate. Whether you've noticed broken shingles, damaging water leaks, or other signs of a failing roof, you can turn to the roof installation and repair pros at J. Corrigan, LLC. 
At J. Corrigan, LLC, our licensed, bonded, and insured roofing contractors are here to help keep your roof durable at all times. We have two decades of experience with roof installation and repair to rely on, and we can't wait to put this experience to work for you. Perpetually dedicated to customer satisfaction, we'll work diligently to make sure you receive the unbelievable service you deserve. Unlike other roof contractors in the area, we provide full-service roof installation and repair services for both residential and commercial properties. Whether you need help repairing a few damaged shingles on your home's roof or you need a new roof for your office building, our roofing contractors are here to meet your needs. We pride ourselves on offering efficient, high-quality commercial and residential roofing services, so what are you waiting for?
Roof Repair Service 
A defective roof can cause the resale value of your house or commercial space to drop, and it even leaves open the possibility for serious health risks like mold growth. Fortunately, you can count on J. Corrigan, LLC, for effective roof repair service. When you work with our roofing repair contractors, you'll be taking a proactive step toward:
Preventing property damage
Improving your building's appearance
Promoting health and safety
Maintaining property value
We are your answer for improving the overall quality of your home or commercial building. Our in-depth training and years of experience mean we can offer you some of the best roof repair service available.
Roof Inspection Service
In addition to offering repair and replacement services, our roof contractors also provide roof inspection services. If you need your roof inspected in order to get an insurance quote, to satisfy the needs of potential buyers, or just to make sure that your roof is in good shape for your peace of mind, you can count on our roofing contractors to provide you with efficient and precise roof inspection services.
If you're in need of roof installation or repair for your property in West Hartford, J. Corrigan, LLC, is here for you. Call or email us today to speak to a roof contractor from our team and schedule service!